Daniel Edmondson's Online Workshops
I came across Daniel's workshops during a general search and found a gem.
Daniel sends you a link to an online video demonstration of each lesson, with photos of the original set up. This is a very convenient method for learning as you can take in the lesson at your own pace. Daniel explains everything he does, colour selection and why he is doing things. He also talks on wider aspects of art and methods.
I find it an excellent way to learn and Daniel always answers your questions sent to him by email. Daniel's lessons can be compared to buying a DVD on the market but with these four extra benefits
1. You can communicate with Daniel direct and he will reply - you cannot do this buying a DVD
2. Having purchased a few DVD's myself Daniel explains what he is doing better than any video I have yet seen.
3. You can build a relationship with Daniel as your tutor.
4. Daniel sends you a video critique of your picture once you have completed the lesson where he talks to you about what you have done, were you have done good and how you could have done some things better
Daniel offers a great product and service for Artists wishing to learn at their own pace and with the convenience of studying from home.
Here is the result of my first lesson with Daniel.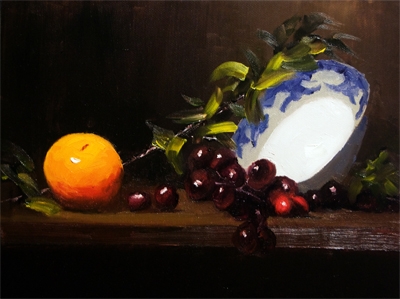 Here is the original by Daniel for comparison
I am not saying that Daniel is a miracle worker, he cannot give you the ability to paint, but he can give you the correct guidance and path for you to progress 'with stabilisers' until you are ready to go solo. Daniel offers much more advice in seperate videos sent to you via email.
His lessons answered many questions for me at a time I was making some wrong decisions with my art.
Find Daniel here
Daniel Edmondson's Online Workshops
Note
I do not receive anything from Daniel for this article being on my site. Dan has offered and I have declined. This is a personal recommendation to any Artist who needs a guiding hand.